دوربین اعماق آسمان شب QHY600M

With the advantage of low readout noise and high-speed readout, CMOS technology has revolutionized astronomical imaging. A monochrome, back-illuminated, high-sensitivity, astronomical imaging camera is the ideal choice for astro-imagers. The QHY600 uses the latest SONY back-illuminated sensor, the IMX455, a full frame (35mm format) sensor with 3.76um pixels and native 16-bit A/D. This sensor is available in both monochrome and color versions. The QHY600 ends the days of non-16bit CMOS cameras and it ends the days non-full frame (and larger) monochrome CMOS cameras.
Models
QHY600 Series have mutiple models which covers both photographic and scientific using. Below list different types of QHY600 PH (photographic) series:
QHY600PH : Standard version for amateur astrographers;
QHY600PH SBFL : it has shorter back focal length compared with other PH types;
QHY600PH L : a Lite, shorter and cheaper version.
QHY600PH SBFL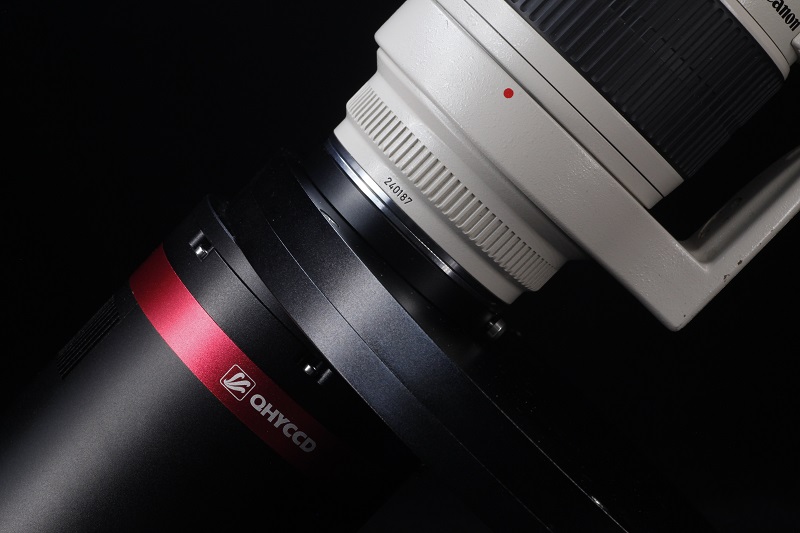 QHY600PH-SBFL (Short back-focal length version) is specially designed for DSLR lens users or those who has special requirment of short back focal length. This version has a special front part version which has 14mm B.F.L only*. The front part includes six M2.5 screw holes arranged on a 68mm diameter roundness. QHY600 SBFL can easily match Canon/Nikon lens even with filter wheel.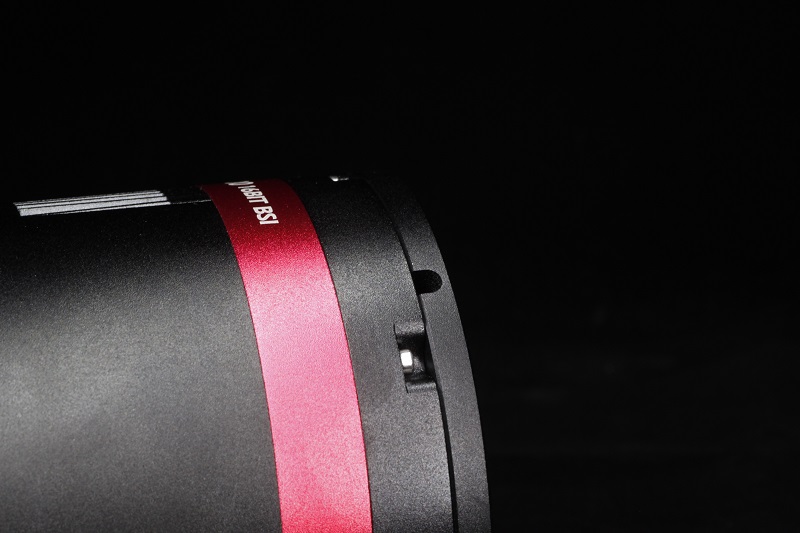 QHY600 Lite
Compared with QHY600 PH, QHY600PH-Lite has the following features compared with previous models:
1. QHY600L only has mono version.
2. The body length becomes shorter, which is about 112mm, and its price is lowered compared with QHY600 PH.
3. The Built-in DDR3 Buffer (memory storage) is adjusted to 1GB compared to 2GB of QHY600PH/Pro. Other specifications of QHY600L keep the same with QHY600PH except the body length and weight.
Features
Equipped with a Sony IMX455, the QHY600 is a back-illuminated Scientific CMOS Camera with extremely low dark current (0.002e/p/s@-20C) using SONY's Exmor BSI CMOS technology. QHY600 is also a zero amplifer glow camera.
The QHY600 has only one electron of read noise at high gain and full resolution and 4FPS readout speed. One electron of read noise means the camera can achieve a SNR>3 at only 4 to 6 photons. This is perfect performance when conditions are photon limited, i.e., short exposures, narrow band imaging, etc., making this large area sensor ideal for sky surveys, time domain astronomy, fluorescence imaging, DNA sequencing and microscopy.
In order to provide smooth uninterrupted data transfer of the entire 60MP sensor at high speed, the QHY600 has 2GB DDR3 image buffer. The pixel count of the latest generation of CMOS sensors is very high resulting in greater memory requirements for temporary and permanent storage. For example, the QHY600 sensor produces about 120MB of data per frame. The data band-width is also increased from the original 16-bits to the current 32-bits. Transferring such a large file sizes necessarily requires the camera to have sufficient memory. The QHY600 has adopted a large-capacity memory of up to 2GB. Data throughput is doubled. This large image buffer meets the needs of high-speed image acquisition and transmission of the new generation of CMOS, making shooting of multiple frames smoother and less stuttered, further reducing the pressure on the computer CPU.
Another advantage is that when using some computers that do not have fast processors or have poor support for USB 3.0, the computer can't transfer high-speed data well, and the data is often lost. The DDR can buffer a lot of image data and send it to the computer. Even if the USB 3.0 transmission frequently gets suspended, it will ensure that data is not lost. There are options in SharpCap to turn DDR buffering on or off. The current version of the ASCOM driver works in DDR mode.
Extended Full Well Capacity and Multiple Read Modes
With a pixel size of 3.76um, these sensors already have an impressive full well capacity of 51ke. Nevertheless, QHYCCD has implemented a unique approach to achieve a full well capacity higher than 51ke- through innovative user controllable read mode settings. In extended full well readout mode, the QHY600 can achieve an extremely large full-well charge value of nearly 80ke- and the QHY268C can achieve nearly 75ke-. Greater full-well capacity provides greater dynamic range and large variations in magnitude of brightness are less likely to saturate. The QHY600 / 268C have three readout modes with different characteristics.

Native 16 bit A/D: The new Sony sensor has native 16-bit A/D on-chip. The output is real 16-bits with 65536 levels. Compared to 12-bit and 14-bit A/D, a 16-bit A/D yields higher sample resolution and the system gain will be less than 1e-/ADU with no sample error noise and very low read noise.
BSI: One benefit of the back-illuminated CMOS structure is improved full well capacity. This is particularly helpful for sensors with small pixels. In a typical front-illuminated sensor, photons from the target entering the photosensitive layer of the sensor must first pass through the metal wiring that is embedded just above the photosensitive layer. The wiring structure reflects some of the photons and reduces the efficiency of the sensor. In the back- illuminated sensor the light is allowed to enter the photosensitive surface from the reverse side. In this case the sensor's embedded wiring structure is below the photosensitive layer. As a result, more incoming photons strike the photosensitive layer and more electrons are generated and captured in the pixel well. This ratio of photon to electron production is called quantum efficiency. The higher the quantum efficiency the more efficient the sensor is at converting photons to electrons and hence the more sensitive the sensor is to capturing an image of something dim.
Zero Amplify Glow: This is also a zero amplifer glow camera.
TRUE RAW Data: In the DSLR implementation there is a RAW image output, but typically it is not completely RAW. Some evidence of noise reduction and hot pixel removal is still visible on close inspection. This can have a negative effect on the image for astronomy such as the "star eater" effect. However, QHY Cameras offer TRUE RAW IMAGE OUTPUT and produces an image comprised of the original signal only, thereby maintaining the maximum flexibility for post-acquisition astronomical image processing programs and other scientific imaging applications.
Anti-Dew Technology: Based on almost 20-year cooled camera design experience, The QHY cooled camera has implemented the fully dew control solutions. The optic window has built-in dew heater and the chamber is protected from internal humidity condensation. An electric heating board for the chamber window can prevent the formation of dew and the sensor itself is kept dry with our silicon gel tube socket design for control of humidity within the sensor chamber.
Cooling: In addition to dual stage TE cooling, QHYCCD implements proprietary technology in hardware to control the dark current noise.
Advanced Functions Available
Reboot the camera by power off and on
The camera is designed to use the +12V to reboot the camera without disconnecting and reconnecting the USB interface. This means that you can reboot the camera simply by shutting down the +12V and then powering it back on. This feature is very handy for remote controlling the camera in an observatory. You can use a remotely controlled power supply to reboot the camera. There is no need to consider how to reconnect the USB in the case of remote control.
Random change thermal noise suppression function
You may find some types of thermal noise can change with time in some back-illuminated CMOS cameras. This thermal noises has the characteristic of the fixed position of typical thermal noise, but the value is not related to the exposure time. Instead, each frame appears to have its own characteristics. The QHY600 / 268C uses an innovative suppression technology that can significantly reduce the apparent level of such noise.
Optimizing USB Traffic to Minimize Horizontal Banding
It is common behavior for a CMOS sensor to contain some horizontal banding. Normally, random horizontal banding can be removed with multiple frame stacking so it does not affect the final image. However, periodic horizontal banding is not removed with stacking so it may appear in the final image. By adjust the USB traffic in Single Frame mode or Live Frame mode, you can adjust the frequency of the CMOS sensor driver and it can optimize the horizontal banding appeared on the image. This optimized is very effective to remove the periodic banding in some conditions.
A typical Periodic Horizontal Noise under certain USB_TRAFFIC values.